Irymple South Primary School offers specialist classes in Visual Arts, Music, Dance, Physical Education and Food Technology/Environmental Studies. We also offer Literacy/Numeracy support to complement the classroom programs.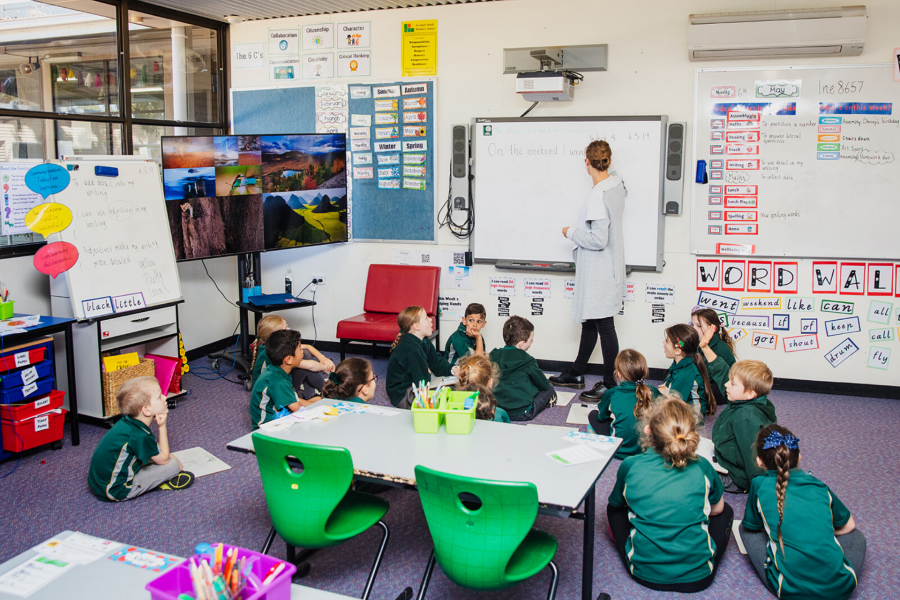 Students at Irymple South Primary School participate in a weekly Physical Education Program with Mrs Branson and in classroom sports with their classroom teacher.
Each Physical Education lesson consists of:
Warm-up/stretches(5-10mins)
P.E. Focus/skills(30-40mins)
Cool down and reflection(5-10mins)
Students participate in minor and major games incorporating team building and sportsmanship, locomotion and ball handling skills such as running, jumping, skipping, dodging, leaping, rolling, bouncing, throwing, kicking, striking and catching using different sized balls.
Students in years five and six are also given the opportunity to compete in inter-school sports throughout the year. Our two main whole school events for the year are our 'Cross Country' races which is held in term two and our Athletics Sports Day which is held in term three. Students from year three to six who excel in these events are able to go on to compete at the inter-school events.

Irymple South P.S. runs a highly creative Art program for students from Prep to Year 6. All students are involved in creating artworks that use a range of skills, techniques and processes, media, materials and equipment.
Throughout the year, the students will be involved in activities that will explore and utilize the 'Elements of Art' (Line, Shape, Size, Texture and Colour) and the 'Principles of Art' (Pattern, Emphasis, Variety, Balance and Proportion).
Students' work is entered into competitions including the "Water Week Poster Competition" and the "Mildura Show".
At the end of the year students select two art pieces to display at the annual Art Exhibition.

The Music curriculum aims to develop students':
Confidence to be creative, innovative, thoughtful, skilful and informed musicians
Skills to listen, improvise, compose, interpret, perform, and respond with intent and purpose
Aesthetic knowledge and respect for music and music practices across global communities, cultures and musical traditions
Understanding of music as an aural art form, its relationship with other arts forms  and contributions to cultures and societies.

At Irymple South Primary School we have a strong environmental focus. Over the years we have put in place many things to reduce our schools environmental footprint including:
Installing large water tanks
Implementing a waste recycling program for plastics, papers and other recyclable waste products
Adopting worm farms for each grade and NUDE FOOD days to minimise food and packaging wastage
Classroom gardens, fruit trees and school chickens and lambs to educate the students about food production and sales
Sale of the schools worm farm and vegetable products
Student and staff education program to reduce energy wastage
solar energy panels
Student environmental leaders from each grade to explore, examine, discuss and educate others on new and existing environmental issues at the school
an annual environmental evening for the students to showcase the schools environmental projects