At Irymple South Primary School we use the School-Wide Positive Behaviour Support (SWPBS) framework to develop a positive, safe and supportive learning culture.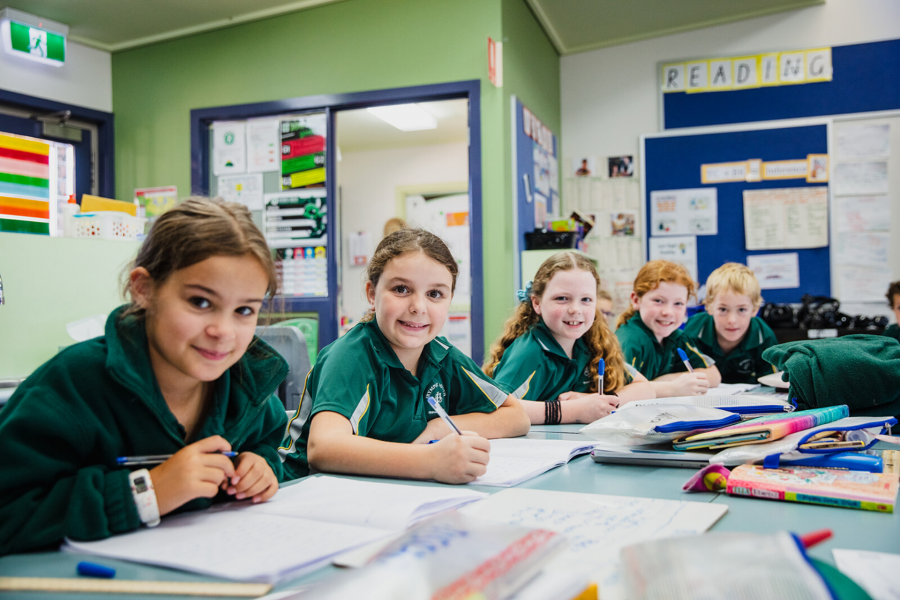 SWPBS supports I.S.P.S to improve the social, emotional, behavioural and academic outcomes for all students.

The SWPBS Framework has supported teachers and students to focus more on relationships and classroom instruction. Students and staff benefit from:
STUDENT BEHAVIOURAL EXPECTATIONS
The following behavioural expectations were co-created by the staff at Irymple South Primary School in 2018 and are revisited at the start of every school year: Curiosity, Inclusion, Ownership and Passion.  These expectations are embedded into the Curriculum.   Using these clearly defined set of expectations, teachers then teach the expected behaviours for all settings in the school.  We also acknowledge expected behaviours as a whole school. 
Expectations set by students and staff are clearly visible in each classroom. The expectations are visited regularly by classrooms, where class meetings are professionally organised to develop social skills and discuss classroom areas for improvement.  Student Voice Teams are also developed to support the development of expected behaviours.
Every year each of these expectations are made clear to students and unpacked to define the situation where a student can see the expectation in context.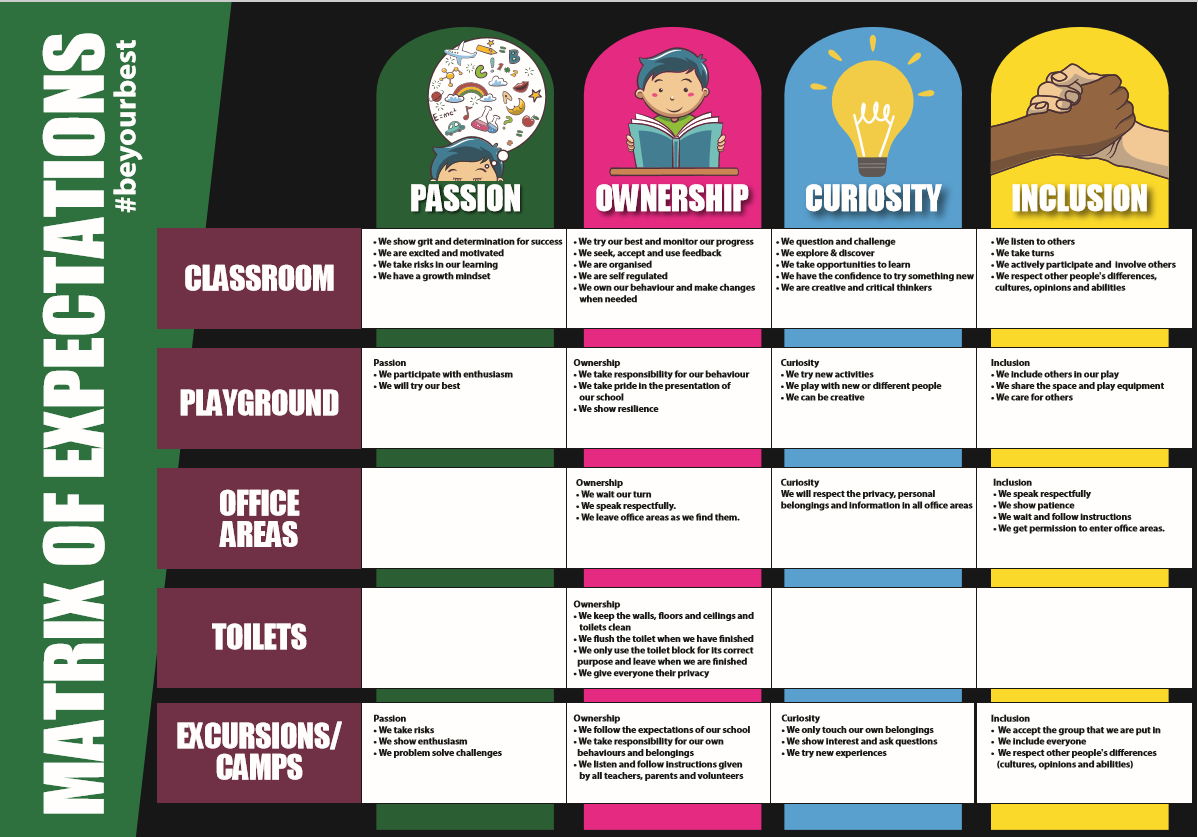 Irymple South Primary uses a tiered intervention framework which invests in: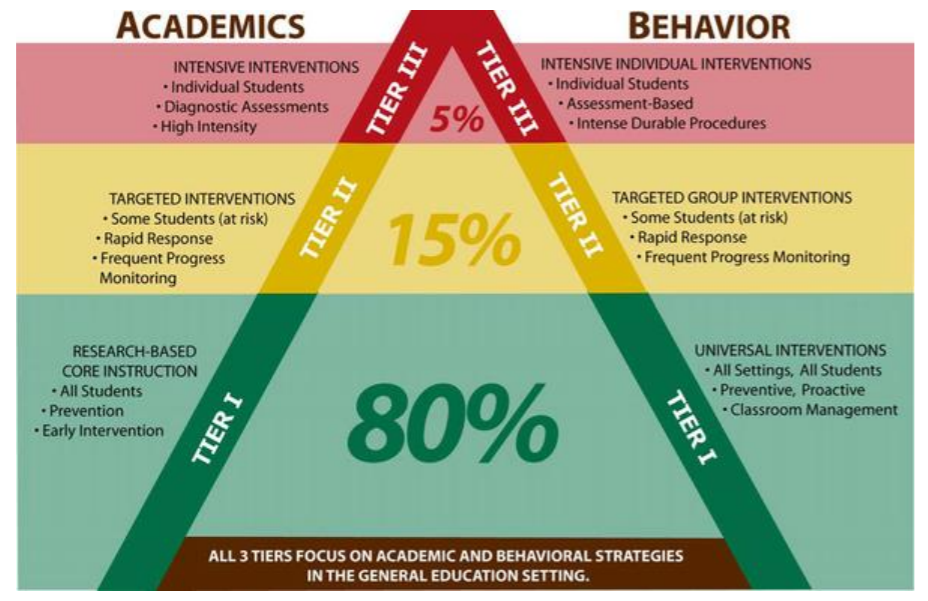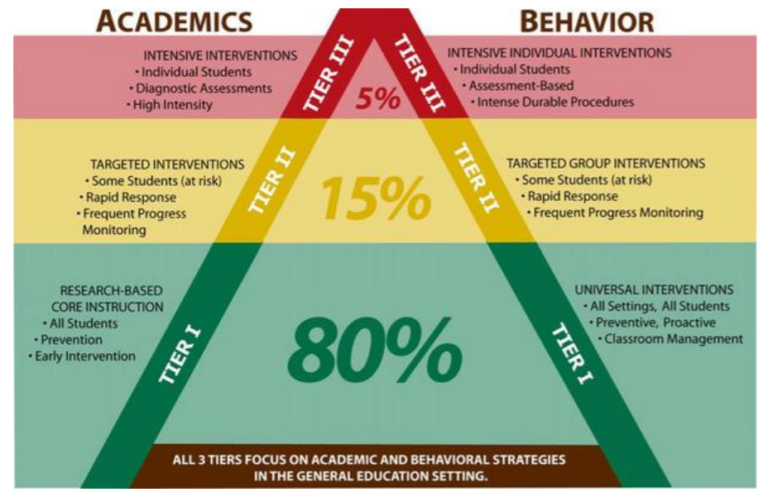 CONTINUUM OF RESPONSE TO INAPPROPRIATE BEHAVIOUR
To be used in conjunction with our 'continuum of procedures' for responding to inappropriate behaviours.
Our first and foremost intention is to create success.  Follow the guide below:
Are students experiencing success?
Is there a positive environment?
Do students understand the expectations?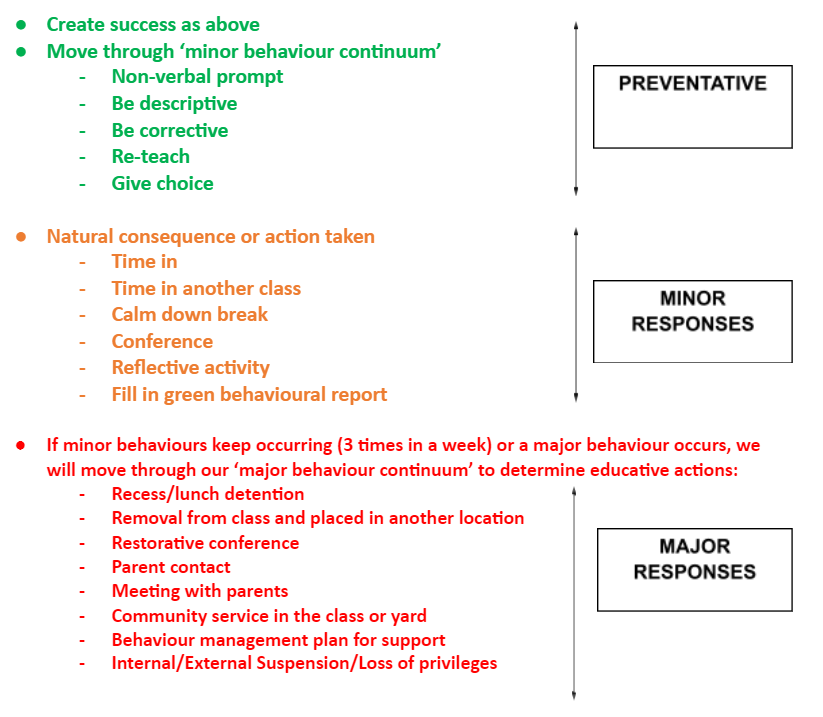 MINOR BEHAVIOURS

MAJOR BEHAVIOURS

Inappropriate language

Messages or use of words in an inappropriate way for the development of the student (e.g. name calling, teasing)

Abusive language

Messages that include swearing, name calling or use of words in an inappropriate way for the developmental age of the child.

Non compliance

Low-intensity failure to respond to adult requests (eg. yelling, "no!" when asked to do something)

Disruption

Behaviour causing an interruption in a class or activity.  Disruption includes sustained loud talk, yelling or screaming and sustained out of seat behaviour.

Property misuse

Student deliberately destroys another student's equipment/possession or work in an inappropriate way (eg. snaps another student's pencil through rough handling)

Physical aggression

Actions involving serious physical contact where injury may occur.

Late to class

Missing the beginning of class time

Property damage

Any form of injury or damage caused to the property, due to the negligence by the person who is not the owner of the property.

Cheating / Plagiarism

Act dishonestly or unfairly in order to gain an advantage

Defiance

This is a refusal to follow directions, talking back and/or socially rude interactions.  In this case the student refuses to follow directions after the initial request has been made directly to the student.

Physical Contact

Non-serious, but inappropriate physical contact

Forgery/Theft

Student is in possession of, having passed on, or being responsible for removing someone else's property.  This also includes identity theft.

Mild disruption

Talking while others are speaking.  Loud voices or noises indoors.

Harassment

Student delivers disrespectful messages (verbal or gestural) to another person that includes threats and intimidation, obscene gestures, pictures, or written notes.  Disrespectful messages include negative comments based on race, religion, gender.

Dress code violation

Student deliberately wears clothing that does not fit within the school setting policies.

Absconding

Within school grounds or leaving school grounds or attempting to run away or hiding from staff.

Fractional truancy

Missing whole lessons or part lessons

Criminal behaviour

These may include but are not limited to:

Possession or use of a prohibited weapon
Making credible threats
Stalking and cyber stalking
Use of technology to intimidate or harass
Harassment and victimisation
Criminal damage
Vilification